Make some mayhem during six weeks of mini-events ahead of Borderlands 3's one-year anniversary!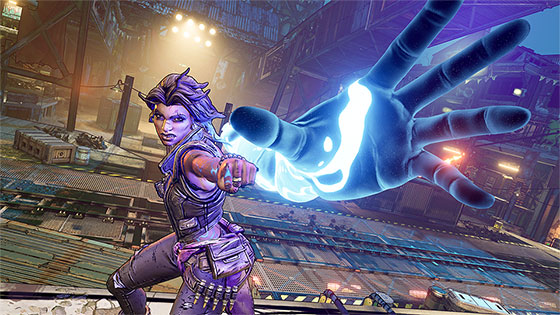 It's been nearly a year since Borderlands 3 made its big debut on September 13, 2019, and we've collectively made all kinds of mayhem in the months since launch. Whether you've been with Borderlands 3 from the beginning or you've just started your journey across the stars aboard Sanctuary III, we want to sincerely thank you, the Borderlands community, for all the support, feedback, streams, videos, fan art, cosplay, and so much more.
To show our heartfelt appreciation, we'll be kicking off the Borderlands 3 Anniversary Celebration on July 30, bringing you a whopping six weeks of mini-events in anticipation and celebration of Borderlands 3's first birthday. If you've been playing since launch day, some of these events may look familiar—but we've also thrown some new events into the mix to keep you on your toes.
A fresh mini-event will be activated via a hotfix every Thursday from July 30 through September 10. We'll remind you of the theme and specifics for each mini-event in that week's hotfix notes, but for now, take a look at what's on the way: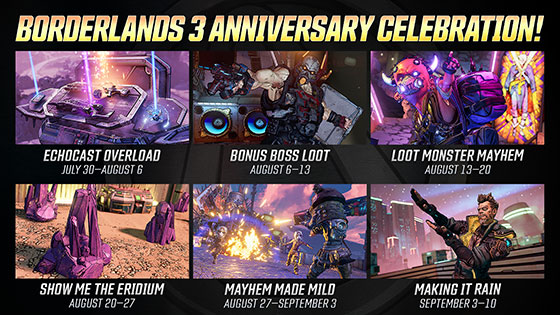 ECHOcast Overload (9 AM PT July 30 to 8:59 AM PT August 6) – Better chance of scoring loot during Rare Chest Events in the ECHOcast Twitch extension
Bonus Boss Loot (9 AM PT August 6 to 8:59 AM PT August 13) – Most bosses have an increased chance to drop Legendary loot
Loot Monster Mayhem (9 AM PT August 13 to 8:59 AM PT August 20) – Increased spawn rates for Loot variant enemies
Show Me The Eridium (9 AM PT August 20 to 8:59 AM PT August 27) – Increased Eridium drops and Eridium item discounts
Mayhem Made Mild (9 AM PT August 27 to 8:59 AM PT September 3) – All Easy modifiers in Mayhem Mode
Making It Rain (9 AM PT September 3 to 8:59 AM PT September 10) – Enemies drop more in-game cash
Participating in these free mini-events requires nothing more than a copy of Borderlands 3, though you can also benefit from their effects while playing Bounty of Blood and the other campaign add-ons included in the Season Pass. We're delighted that you're here to help us celebrate, Vault Hunter—thanks for making Borderlands 3 so special!